poster designer
Bourgon Sc.
Bourgon Sc.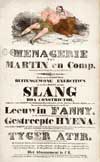 Menagerie van Martin en Comp. Buitengewone Exercitien, Vreeburg Utrecht
Status:
Unsold (unavailable)
Details:
45,5x75, 1837, on japan. Bougonje Sc. (partly illegible), Menagerie van Martin en Comp. Poster printed by engraving and letterpress on handmade paper, partly coloring by hand. The illustration and text printed on 2 separate sheets. Printed by Boek- en Plaatdrukkerij van M. de Lyon, In de Lange Pooten N. 437, 's Gravenhage. One of the earliest Dutch illustrated posters for the menagerie of Henri Martin (1793-1882), performing on Vreeburg, Utrecht. Martin was a French lion tamer and well known throughout Europe. After the end of his career in 1833, he was to become the first director of the Rotterdam Zoo 'Diergaarde Blijdorp'.